KofC Custom Sword Package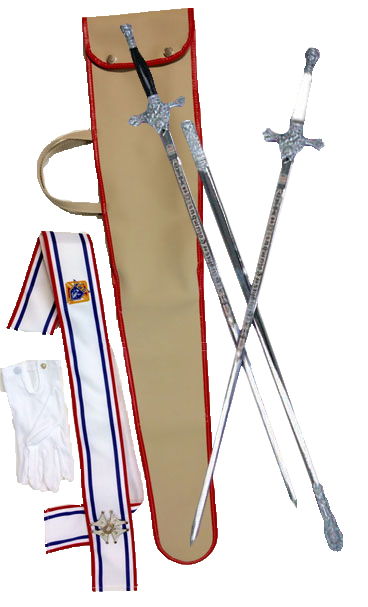 TEC-NY
Personalized Member's Name Sword. All package items will be shipped and Custom Sword will follow in approx. 3-4 months time.
SP200
SP200
410.00
The English Company, Inc.
https://www.kofcsupplies.com/Item/SP200
KofC Custom Sword Package
SP200 - KofC Custom Sword Package
Outstanding Quality and Workmanship.

"EXCLUSIVELY MADE BY THE ENGLISH COMPANY"

Custom Name Sword "Package". Black OR White Handle.

Available for: U.S.A. and CANADA
Sword and Baldric Instructions- remove sword from scabbard, turn scabbard upside down to match up "keyhole shape" scabbard clip to baldric clip, snap into place and turn right-side up. Return the sword into scabbard and then it will hang correctly. NOTE: some may require a bit of pressure

Care Instructions: This is a decoration sword, please donít attempt to cut hard items as this will damage the blade. After each use, please use a dry cloth to clean the surface, then put the sword into the scabbard. Do not use sword in acidic or salt environments. If not using for a long period of time, carefully use a little anti-rust oil to clean the sword blade, followed by a dry cloth to clean the surface. Do not clean or rub the gold etching on the blade. Store in a dry location. Metal is rust resistant, not rust proof! (Regularly maintain every 3 months.)




Package includes:


-Custom" Name Sword (see below for engraving instructions) (White Handle additional charge)


-Service Baldric

-White Gloves

-Sword Case

-Case Plate -(optional..see below)

Note: All in stock package items will be shipped and the custom sword will follow within 3-4 months.
Software: Kryptronic eCommerce, Copyright 1999-2023 Kryptronic, Inc. Exec Time: 0.014291 Seconds Memory Usage: 1.182266 Megabytes