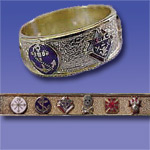 ‣Rings
KofC Gold, Silver, & Tungsten Carbide Rings... "FREE SHIPPING" on all Rings! Please note: If any other items are added with your ring order,shipping & handling charges will be added for those items only. RINGS ARE CUSTOM MADE, NO
‣Rings
‣Rings
KofC Gold, Silver, & Tungsten Carbide Rings... "FREE SHIPPING" on all Rings!
Please note: If any other items are added with your ring order,shipping & handling charges will be added for those items only. RINGS ARE CUSTOM MADE, NO RETURNS OR EXCHANGES Except on Tungsten Carbide!
Rings are custom made and can take 4-5 weeks for delivery. If a required date is needed, please contact us!
Software: Kryptronic eCommerce, Copyright 1999-2021 Kryptronic, Inc. Exec Time: 0.011242 Seconds Memory Usage: 1.708435 Megabytes