Funeral Pall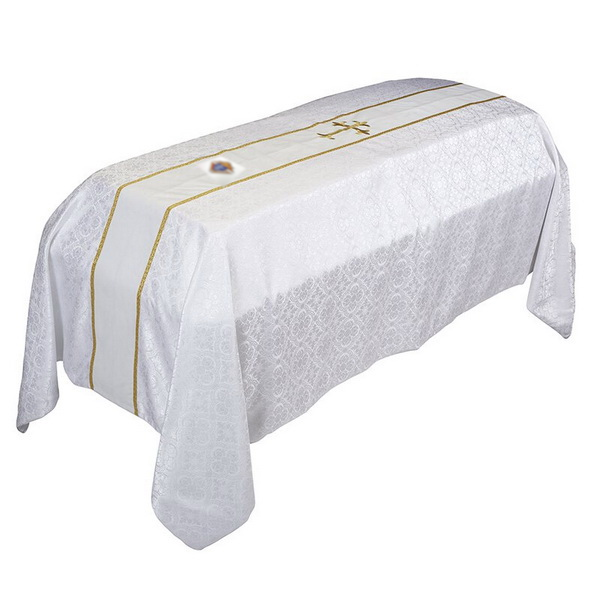 TEC-NY
Funeral Pall for deceased member.
960
960
425.00
The English Company, Inc.
https://www.kofcsupplies.com/Item/960
Funeral Pall
960 - Funeral Pall
Funeral Pall for Deceased Member.

The design on the Embroidered Avignon Funeral Pall 6' x 10' features a beautiful floral damask design and gold metallic jacquard banding with embroidered center cross. Inspired by an antique chasuble found in Avignon, France. Well constructed for years of use. From Cambridge™. Embroidered Emblem of the Order.
Measures: 6 feet x 10 feet (72 inches x 120 inches)
Materials: 100% Polyester Jacquard / Satin Gold Embroidery / Gold Lace
Dry Clean Only
For use for stationary casket covering "only". Remove when casket is moved to prevent any damage to the pall.
*Please see the disclaimer below:

-Prior to placing an order for this item, please confirm with your chaplain that this Knights of Columbus funeral pall is acceptable for use in your parish.

-
Since the pall is the symbol of the Sacrament of Baptism (not the K of C) a compromise is to be followed. The
KofC emblem placement must be at the end of the casket and remain shown on
the end facing up not the flap heading down to the floor.
Software: Kryptronic eCommerce, Copyright 1999-2023 Kryptronic, Inc. Exec Time: 0.014615 Seconds Memory Usage: 1.071526 Megabytes