Burgundy Catholic Bible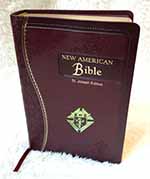 TEC-NY
Saint Joseph New American Bible
609-19BG
609-19BG
29.99
The English Company, Inc.
https://www.kofcsupplies.com/Item/609-19BG
Burgundy Catholic Bible
609-19BG - Burgundy Catholic Bible
Saint Joseph New American Bible in Burgundy color. Illustrated. Flexible simulated leather. Gold gilded edges. Excellent Quality...
Exclusively and Personally made with the cover having a gold stamping of the Emblem of the Order. Size: 6" x 8-1/2"
**This Bible has a gold stamped KofC emblem on the cover**
Features include:
*Beautifully Illustrated Family Record Section along with 30 Full-Color Illustrations
*All Footnotes and Cross-References Keyed in Text
*Over 20 Self-Explaining Maps in Context with 8 Full-Color Maps
*Chronology of History of Israel
*Vatican II Constitution on Divine Revelation
*Bible Dictionary and Doctrinal Bible Index
*Liturgical Index of Sunday Readings
*Burgundy satin ribbon for page placement
*Lifetime Guarantee from the Publisher
Software: Kryptronic eCommerce, Copyright 1999-2021 Kryptronic, Inc. Exec Time: 0.036819 Seconds Memory Usage: 1.064308 Megabytes