Etched Sword with BLACK Handle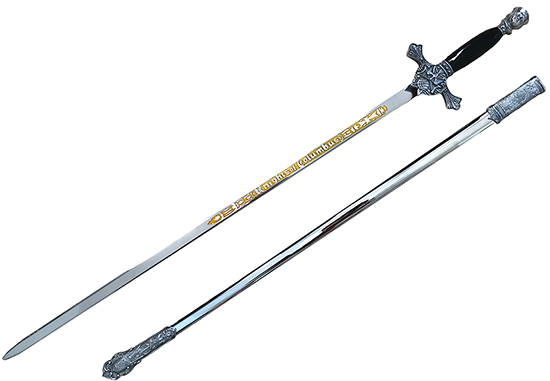 TEC-NY
SWORDS ARE ALWAYS IN STOCK AND READY TO SHIP! (Sword and baldric instructions- remove sword from scabbard, turn scabbard upside down to match up "keyhole shape" scabbard clip to baldric clip, snap into place and then return the sword into scabbard and then it will hang, NOTE: some may require a bit of pressure)
4F
4F
149.00
The English Company, Inc.
https://www.kofcsupplies.com/Item/4F
Etched Sword with BLACK Handle
4F - Etched Sword with BLACK Handle
4th Degree Etched Sword with Scabbard. Black handle. Beautiful beveled blade gold etched with words " Knights Of Columbus." Outstanding Quality and Workmanship.
Sword and baldric instructions- remove sword from scabbard, turn scabbard upside down to match up "keyhole shape" scabbard clip to baldric clip, snap into place and then return the sword into scabbard and then it will hang... NOTE: some may require a bit of pressure)
**CURRENTLY OUT OF STOCK**

IF YOU WISH TO CONTINUE TO PLACE YOUR ORDER, YOU WILL PLACED ON BACK-ORDER UNTIL SWORDS ARE BACK IN STOCK OR YOU MAY CHECK BACK AT A LATER DATE.
Software: Kryptronic eCommerce, Copyright 1999-2021 Kryptronic, Inc. Exec Time: 0.007084 Seconds Memory Usage: 1.057838 Megabytes