Service Baldric- (Purple)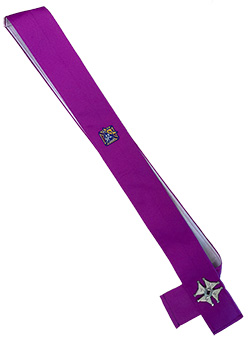 TEC-NY
Service Baldric For Sword. Available in Short Length (28"), Regular Length (32") and Extra Length (35") Our Baldric clips are bolted on, NOT snapped. USA and Canada colors available! (CANADIAN BALDRICS ARE ON BACK ORDER)
4Cp
4C-P Color Corps Commander
32.00
The English Company, Inc.
https://www.kofcsupplies.com/Item/4Cp
Service Baldric- (Purple)
4C-P Color Corps Commander - Service Baldric- (Purple)
SERVICE BALDRIC WITH (SILVER CLIP)

Office Position:
-COLOR CORPS COMMANDER
For proper length:

Measure from top of right shoulder seam to center of left hip.

Available in Short Length (28"), Regular Length (32") and Extra Length (35")

-Made in USA-
**Due to the overwhelming response to the new baldric colors, orders will be processed in the order they are received. Current delivery time 6 weeks.
The date your order is shipped, you will receive an email confirmation...Your patience would be most appreciated. Thank you!
Software: Kryptronic eCommerce, Copyright 1999-2023 Kryptronic, Inc. Exec Time: 0.012552 Seconds Memory Usage: 1.103256 Megabytes