Custom Name Sword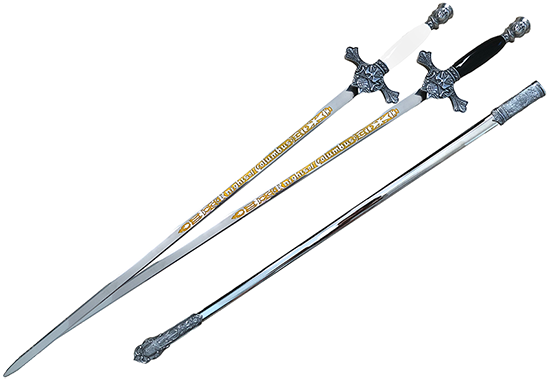 TEC-NY
Custom Personalized Member's Name Sword. UP TO 3-4 MONTHS DELIVERY ON THE CUSTOM SWORD. Excellent Quality and Workmanship! (Sword and baldric instructions- remove sword from scabbard, turn scabbard upside down to match up "keyhole shape" scabbard clip to baldric clip, snap into place and then return the sword into scabbard and then it will hang, NOTE: some may require a bit of pressure)
4-I
4-I
325.00
The English Company, Inc.
https://www.kofcsupplies.com/Item/4-I
Custom Name Sword
4-I - Custom Name Sword
Custom sword with etching on both sides of blade. Black Handle or White Handle.

LIMIT 25 characters/spaces on each side of blade!
Outstanding Quality and Workmanship---EXCLUSIVELY MADE BY THE ENGLISH COMPANY!
*Sword and Baldric Instructions- Remove sword from scabbard, turn scabbard upside down to match up "keyhole shape" scabbard clip to baldric clip, snap into place and then return the sword into scabbard and then it will hang, NOTE: some may require a bit of pressure.


Please Note Delivery update: Custom Name Sword orders placed after November 1, 2022 have a delivery date of mid April-May 2023.

Software: Kryptronic eCommerce, Copyright 1999-2023 Kryptronic, Inc. Exec Time: 0.012555 Seconds Memory Usage: 1.098221 Megabytes