Men's Performance Oxford Shirt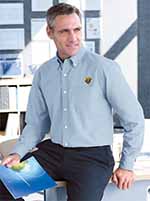 TEC-NY
MENS OXFORD SHIRT (LARGE SIZE SOLD OUT)
CH620
CH620
21.99
The English Company, Inc.
https://www.kofcsupplies.com/Item/CH620
Men's Performance Oxford Shirt
CH620 - Men's Performance Oxford Shirt
45% OFF On Sale
K of C Executive Performance Oxford Shirt...Outstanding quality you can trust! 85% cotton/15% polyester blend- wrinkle and stain resistant fabric- left chest pocket. Available Sizes: M, XL, 2XL, 3XL and 4XL. Color: Light Blue. Embroidered with the emblem of the order in full color. LARGE SIZE SOLD OUT!!
CLOSEOUT SALE!
Get discounted pricing on sale items when you buy today.
Software: Kryptronic eCommerce, Copyright 1999-2021 Kryptronic, Inc. Exec Time: 0.037192 Seconds Memory Usage: 1.090904 Megabytes